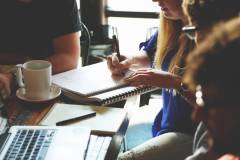 Ace CSR provides businesses with useful and practical advice in a friendly and open manner. If we don't think we can help you, we'll tell you.
We pride ourselves on our professional yet personalised consultancy. Our directors are directly involved in every project to deliver an enviable mix of customised solutions and best practice standards.
We understand the sustainability industry, a rapidly changing landscape in which the risks are high and the need for value creation is greatest.
We ensure that created value is shared with our clients through the transfer of knowledge and toolkits.
Contact us now, we would love an opportunity to meet you to personally introduce ourselves.